"PATH TO PENTECOST"
Free Resources
Here are some ideas to stay focused on what matters most
and to keep your weeks filled with Holy Moments!
---
CLICK HERE! to download the template for going to mass in person or watching at home!
---
Visit MyGratitudeList.us  and choose a video
(there is one for adults and one for kids!)  
Then print out the "Gratitude List" and
spend some time reflecting on the blessings in your life.
---
Everyone needs this!
Print out you own Dynamic Catholic PRAYER PROCESS Card. 
Don't we all want to know "how to pray," knowing that our prayers are heard by God?  This card will take you step by step through the process of praying and teach you how to pray!
CLICK here to print your card!
---
For Families: Help Your Kids Get to Know Jesus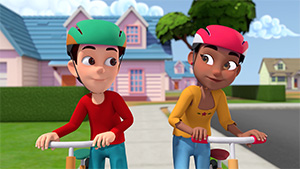 The entire Dynamic Catholic BLESSED series is available online for free!  Each of the 84 episodes will engage your children's sense of wonder and take them on an unforgettable adventure into the story of Jesus and the life-giving truths of His Church. CLICK to View Episodes
---
For Spouses: Take Your Marriage to the Next Level
If you have extra time together with your spouse, take advantage of it—experience Dynamic Catholic's BETTER TOGETHER Marriage Enrichment Inventory! Plus, we have over 72 video segments with tips, encouragement and wisdom from a panel of incredible speakers.   CLICK to take the inventory
---
For Anyone: Rediscover the Genius of Catholicism 
The Dynamic Catholic DECISION POINT was originally created as a confirmation program, but it's actually great for anyone and everyone. With 72 free streaming video segments, you'll find tons of practical and inspiring messages from Matthew Kelly as he talks about the best way to live.   CLICK to View